GET HARD

(directed by Etan Cohen, 2015)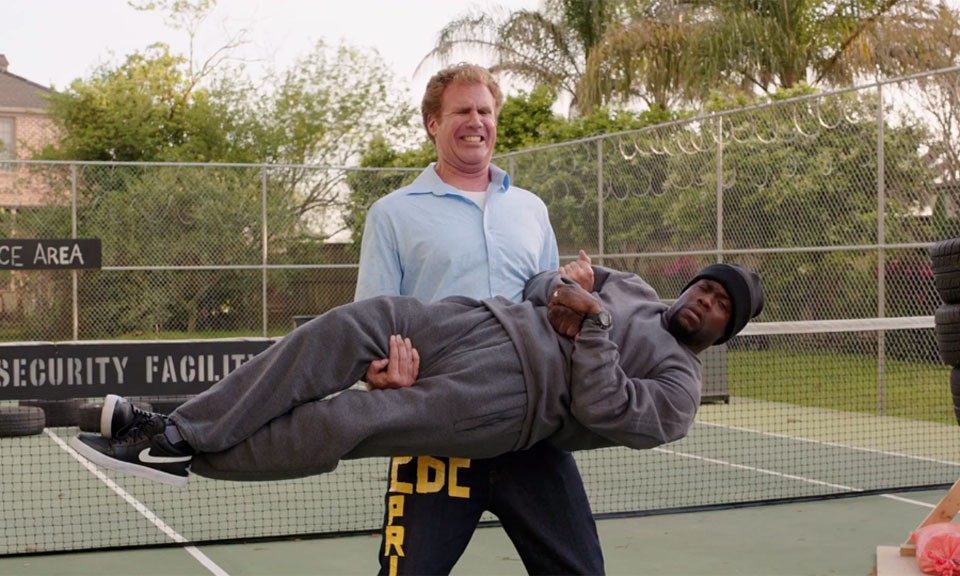 What did you do when you woke up this morning? Stretched for a moment, likely made breakfast or at least a cup of coffee? Read the day's newspaper if that's still your thing? Then - don't tell me - desperately wondered why comedies about prison don't include oodles more gay rape jokes?
Wait. You're telling me no one does that? Too bad the news didn't reach "Get Hard," a movie on a mission if I ever did see one. If only that mission were worthy.
It's not that the movie is offensive, though it is. It's not that it's immature, though it is. We're talking a much worse cardinal sin in comedies: It's lazy. It's punishingly, mind-numbingly lazy. According to the calendar, it's the year 2015, and "Get Hard" is not only obsessed with the notion that two men of the same gender might have sex with each other, it thinks that in and of itself is a knee-slapper.
Switch a few gears around, and it might as well be a 1950s sci-fi parable entitled "Gay Panic!" about pod people taking men over and forcing them to do foul things together in bathroom stalls.
Such a shame that the basic framework of "Get Hard" is not without potential. Will Ferrell, embodying white privilege, plays a hedge fund manager wrongfully arrested for fraud and embezzlement and sentenced to ten years in San Quentin after a judge wants to make an example of white collar crime. Terrified of life behind bars, he naturally assumes his car washer (Kevin Hart) has done hard time due to his skin color being black, and employs him to offer tips for prison survival before the sentence begins in 30 days.
Not the worst concept. One can easily picture Gene Wilder and Richard Pryor nailing a similar plot. As with any movie, though, there are ways to do it right and there are ways to do it wrong. There are ways to work in jabs at America's white upper class and the institutional racism and homophobia within. There are ways to satirize our prison system and how stereotypes do or don't clash with reality.
In other words, there are ways to be smart. There are ways to be funny. And the dictionary of "Get Hard" knows no such adjectives. Once Hart agrees to pretend to be Ferrell's street smart coach, the movie sets some kind of land speed record for gay jokes, hitting them fast and furious. Ferrell will be have shower sex in prison. Ferrell will suck dick in prison. Ferrell will undoubtably become somebody's bitch in prison.
There are literally stretches in "Get Hard" lasting for 5, 15, even 20 minutes that are nothing but gay jokes, gay jokes, gay jokes, like they're being given away at a very weird yard sale. Take a sequence at a restaurant where gay men go for brunch and to meet other guys. In order to overcome his heterosexual inclinations that he'll have to forget in prison, Hart sends Ferrell there pick up the first man he sees (played by Matt Walsh) and offer him oral sex in the bathroom. It's an agonizingly prolonged scene, built around a torturous close-up of Ferrell on his knees, schlong dangling in his face, loudly sobbing as he attempts to wrap his lips around it.
Quick - comedy workshop time! Lets simply accept that this scene is in the movie and there's nothing we can do about it. You've got Ferrell, straight middle aged man, likely never been within five miles of a naked penis in his life, let alone five inches. What do we call this in terms of joke structure? The set-up, right? And from there flows the punchline. From there you build and add the funny.
"Get Hard" never builds. "Get Hard" never expands. "Get Hard" simply lies content that its initial childish concepts are funny enough to stand alone. It's a mountain climber who stands at base camp and believes he's reached the summit.
It's an old comedy axiom that you punch up, never down. You hit the targets in power, never the downtrodden. "Blazing Saddles" works because its wildly incendiary language tackles the racist tropes within westerns. "Tropic Thunder" (cowritten by "Get Hard" director Etan Cohen) features a white man in black face for practically the entire movie, as explosive an image as you could ask for, and yet because its target is clearly pompous actors taking the Method too far, it scores some brilliant jabs. That's how smart comedy works. Using the same offensive tools of your targets to hit them where it hurts.
Making "Get Hard" work, then, basically requires a complete overhaul, first and foremost ditching the conceit that Farrell is a wrongfully accused good guy. Not only does it bog down the movie's back half as he and Hart attempt to prove his innocence, it drastically muddies the waters and renders the targets unclear. Make Hart the unquestioned good guy and Ferrell the unquestioned bad guy who definitely committed his crimes and will definitely go to prison. No doubt this would be a tougher pill to swallow for audiences who expect to root for Ferrell, but it would effectively redirect the movie's rampant racism and homophobia at him and lend a genuine arc through his interactions with Hart.
Secondly, don't pout, "Get Hard." You can keep your gay jokes. No one's taking away your juice box. Just add one simple, magical word, "Why?" These people find the mere existence of gay sex disgusting, but why? Ferrell can't understand a world beyond his own straight, lily white mansion, but why? Push the premise. Roll the stone down the hill and see what moss it gathers. Instead you're just the boys giggling during sex ed.
It should be said that given what they're given, Ferrell and Hart are nothing if not pro salesmen; it's practically impossible for these two guys to not at least seem funny. And the movie sprinkles little nuggets throughout suggesting what might have been, like a very funny sequence where Ferrell attempts to trash talk and instead reveals some deep-rooted emotional issues of his own.
Just because "Get Hard" lives in a world where gay sex is a thing, though, doesn't mean it has to like it.