THE BABADOOK

(directed by Jennifer Kent, 2014)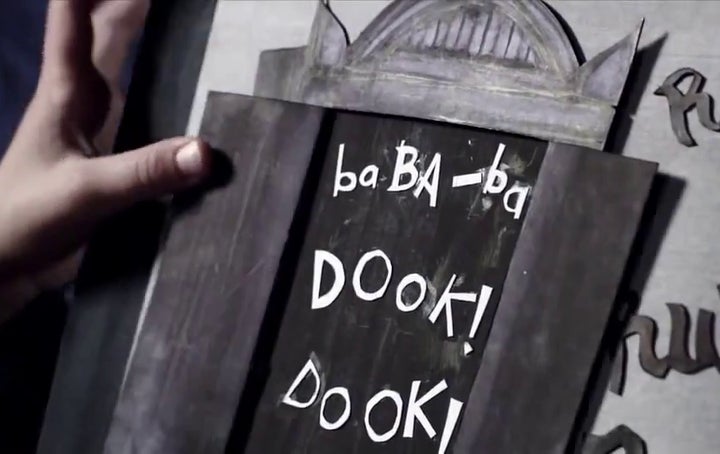 Describing what made Stanley Kubrick's "The Shining" such a crown jewel of horror, Steven Spielberg once pointed to the classic "All work and no play makes Jack a dull boy" scene. Shelley Duvall discovers Jack Nicholson's ramblings, shedding page after page from her trembling hands, as the music swells and we instinctively know, thanks to the cliches of horror, that someone's gonna pounce.
A lesser director, Spielberg said, might go for the easy scare. Jack leaps from around the corner, piano chord crashes, audience's popcorn flies, and we move on. Kubrick instead took the subtler approach, shifting the camera to Jack's perspective as he sneaks behind her and we're right there with him. This robs us of the jolt moment, but it also builds a quieter, more effective terror. The kind of terror that finds a home in our marrow and comes out to taunt us when we're lying alone in bed at night.
That thought stuck with me while watching "The Babadook," writer/director Jennifer Kent's masterful new work of horror. Those hoping for quick jumps in their seats need not enter here. That's not terror. That's the release, and it wears off like a carnival joy buzzer. Kent knows that what burrows under your skin is the build, the anticipation, the knowledge that something is around the corner and you can't do anything about it.
She also taps into the primal understanding that having kids can be a scary friggin thing.
"The Babadook" sprouts from a haunt as basic and elemental as The Boogeyman. Amelia (Essie Davis), a widowed mother, finds raising her young son Sam (Noah Wiseman) alone to be a touch, shall we say, difficult. He doesn't socialize well with other children. He never behaves. Now he brings home a picture book that reads like Maurice Sendak actively wanting to send kids to therapy - a book about a mysterious creature called The Babadook - and believes this creature to be haunting their house. Amelia naturally assumes this to be Sam typically acting out, until a few incidents slowly force her to reconsider.
Think "We Need To Talk About Kevin" meets "The Conjuring," and you're on the right track.
To understand what makes "The Babadook" such a singularly effective hair raiser, lets go where even the best horror flicks can stumble: the last act. That point where fun and games are over, and it's time to wrap things up. What this unfortunately means is the suggested often must become literal, and it loses some punch. By the time we see the mother's chair doing silly flips at the end of "The Conjuring," it's kinda tough to be invested. Kent ingeniously bypasses this in "The Babadook" by making the haunting itself entirely suggestion. For every horror setpiece sequence in the movie, she never shows her hand. Each appearance of the Babadook defies easy categorization, cleverly framed and edited by Kent so that it could just as easily be a product of the family's imaginations as the real deal.
Some of the more mixed reviews point to this as a cheat. Once we accept that the Babadook may in fact be imagined by Sam and Amelia, what's there to be afraid of? And yet, isn't that what's to be afraid of most? Maybe the Babadook is real. Maybe it isn't. That's your prerogative. The effects are certainly real, though. The family's resulting screams and panic and breathless dives beneath the covers are all there. Now take that and think about the one base fear that drives everything from hot teenagers getting hacked by Leatherface to the classic dream where someone chases you, but your legs can't move: inability to escape.
Making the Babadook a real thing makes it something we can theoretically understand, but it also becomes a thing we can theoretically defeat. Keeping it a figment of Sam and Amelia's imaginations, though? There ain't no escape from your own mind.
So strip away the perceived haunting from the surface, and whatta we got? What do the events of "The Babadook" look like from the
Rosencrantz and Guildenstern perspective? Why, something that strikes the heart of the child in all of us: a mother who hates her son and wants him dead. A mother who has had enough, who isn't a source of protection and safety anymore. And, for the parents out there, the idea that your one sacred charge on this earth - protect your offspring at all costs - can be brushed aside in favor of your most horrible instincts.
If there's one thing scarier than a monster in your house trying to kill you, it's the idea that you can't run to your own mother.
What an exercise in precise control "The Babadook" is. Anchored by two impeccable, intense performances from Davis and Wiseman that never quite let us know where we stand, it's less concerned about what goes bump in the night than the fact that what goes bump ain't going anywhere. And as a filmmaker, Kent allows her scares to build from within, starting with honestly realized characters and growing organically from there.
Your popcorn won't go flying. You'll remain still in your seat. But good luck conceiving tonight, folks.